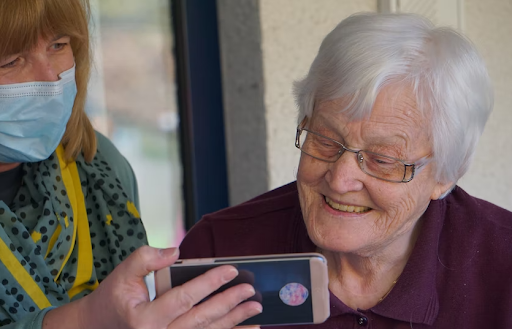 Many senior adults prefer to live at home rather than in assisted living facilities or other nursing homes. Many of them may need help with grooming, cleaning, shopping, and other simple tasks that make day-to-day life easier and more enjoyable for them.
Home-based care offers seniors many benefits, including the freedom to stay in their familiar surroundings and save money on housing and services they might not need yet. Here are 5 other benefits of home care for senior adults that help to make their life easier.
1. Socialization
Home care can help seniors maintain their social life by giving them the opportunity to socialize with other seniors in the comfort and security of their own homes. Socialization is important because it helps reduce isolation and depression, as well as increases the cognitive ability of old people.
Seniors who are cared for at home are more likely to have self-confidence than those who live in an assisted living facility or nursing home.
2. Treatment Support
Home care allows senior adults to feel more comfortable in their homes. It allows them to have good medical treatment, including the administration of medicines, help with occupational and physiotherapy, and even dietary needs. 
By providing these services in the comfort and familiarity of their own home, seniors are able to maintain independence while also receiving much-needed support.
3. Mental Stimulation
One benefit of home care for senior adults is the opportunity to maintain mental stimulation. Seniors who have the opportunity to engage in intellectual activities can find it easier to stay mentally sharp. 
Activities like reading, writing, and solving puzzles are all great ways to keep their minds active. These activities also provide opportunities for seniors to interact with others and stay socially connected. They're also a great way to spend time with family members or friends if they live nearby.
4. Better Health
Home care is the best option for many senior adults, and most people ignore that. A private caregiver will come and help out at the house so that seniors can stay in the comfort and familiarity of their own homes.
This is often preferable to living in a retirement facility where they may not be as active, or have as much privacy. Depending on the illness and medical condition of most elderly adults, it is preferable to provide them with a home care provider to ensure better health conditions.
5. Companionship
Companionship is one of the major benefits of in-home care. Whether they're lonely, need help with daily tasks, or just want to talk, a home- bases caregiver can offer a listening ear and comfort. They can also be there to provide a friendly face when family and friends are unavailable.
Some families may find it difficult to live nearby their elderly relatives who require more assistance due to their ailments or circumstances. In this case, hiring a professional caregiver might not only make sense but can also be crucial for their overall holistic health.