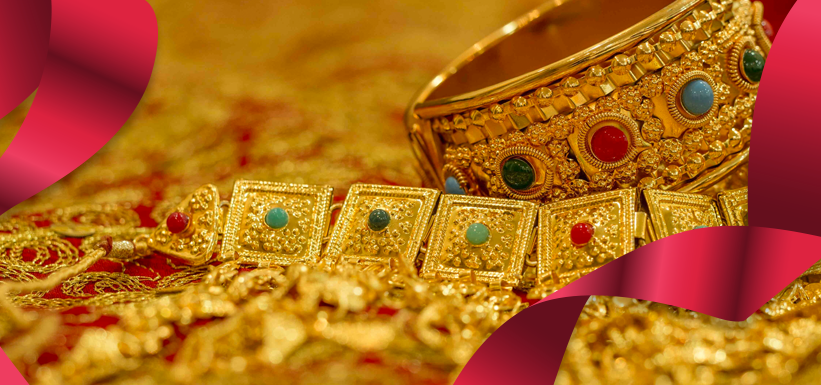 Gold is one of the crucial investments in our lives which is helpful during our tough times. You can easily avail of an online gold loan by Bajaj Finserv around Rs. 1 crore. For this loan, you submit your gold jewellery as collateral or security. In return, and NBFC's will provide you the funds equivalent to the value of the gold jewellery. Simultaneously, you will get back your jewellery after successful repayment of the loan amount. You must submit appropriate gold loan documents to easily avail of the gold loan.
Why Do You Need a Gold Loan?
As you already know, gold is one of the precious assets and thus, highly regards. Availing a Bajaj Finserv gold loan can help you unlock the value of your gold assets, without a need to sell those assets. The interest rate on gold loans is lesser than other types of loans. That is why the gold loan is one of the preferred options among other types of loans. Furthermore, if you have a bad CIBIL score and facing a shortage of funds, then you can apply for an online gold loan.
Important Documents To Apply For Gold Loan
Anyone who is older than 21 years can apply for gold loan. All you need to provide is basic gold loan documents for the loan approval. These are the necessary documents that are required to apply for Bajaj Finserv Gold Loan.
Address Proof
You can submit any of the following documents as address proof for an online gold loan.
Aadhar Card
Voter ID Card
Electricity Bill
Passport
Driving License
Ration Card
Updated Bank Account Statement
Identity Proof
These are the following documents you need for identity proof for a gold loan.
Voter ID Card
Driving License
Aadhar Card
Passport
PAN Card photocopy
A passport size photo
Hence, your application for the gold loan will get processed quickly if you are prompt to submit the above gold loan documents.
Important Benefits and Features of Gold Loan
You must know its benefits and features before you apply for an online gold loan by Bajaj Finserv. Read below to know about it in detail.
Easy Solutions for Loan Repayment
Bajaj Finserv offers you a broad range of repayment solutions. Thus, you can pay the Equated Monthly Instalment according to your convenience. You can pay the interest of the gold loan in several intervals and then the principal amount later or vice versa.
Get a Gold Loan worth Rs. 1 Crore
You can avail of an online gold loan worth up to Rs. 1 crore from Bajaj Finserv. The process of application is quick and you can expect easy approval. The loan amount will be disbursed in the form of cash or TGS, NEFT, or IMPS. You will get the maximum value of your gold jewellery according to the current market price.
Complimentary Insurance for Your Gold
When you submit the gold loan documents, you will also get complimentary insurance from Bajaj Finserv. So, you can remain stress-free about handing out gold jewellery. Thus, if any misplacement or theft occurs, you can recover the exact amount of your jewellery.
Safety and Security for Your Jewellery
Bajaj Finserv stores your gold jewellery into a safe system after your gold loan documents approval. It is kept under a 24×7 surveillance system, and the rooms are equipped with motion detectors. Due to these extreme safety protocols, Bajaj Finserv is the trustful and best company for secured gold loans.
Benefit of Part-Release
Additionally, the foreclosure and part-repayment of gold loans is another feature for online gold loans. You can close the loan if you don't want to pay additional charges. Thus, you can pay the remaining equivalent amount and get your gold jewellery back easily.
You can apply for gold loans offline as well as online. You can upload your gold loan documents online and the amount is disbursed with instant verification. Thus, you can get a loan at your convenience by visiting Bajaj Finserv website.