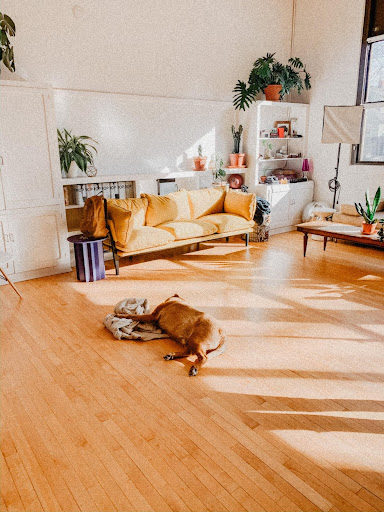 Laminate is a high-quality, reasonably priced alternative for installing hard flooring in your home or place of business, it is a high-quality flooring that brings you special advantages. Continue reading for more information on the benefits of laminate flooring if you intend to install new hard floors in your home.
Affordability
Due to its affordability, laminate flooring is the most well-known. Compared to natural timber, which can be rather pricey depending on how exotic the tree is, laminate flooring is far more economical because it is primarily created from composite wood that is pressed together at high temperatures.
For instance, the least expensive laminate offered by Carpet Call right here is $26 per square meter, as opposed to real hardwood floors, which cost between $50 and $150 per square meter.
Extreme Adaptability
In addition to being durable, laminate flooring's composite timber substance also has excellent scratch resistance in its top layer. The laminate floorboards' top layer will withstand heavy foot traffic, boisterous children, and pet claws. Additionally, UV resistance makes it less probable for the color of your floors to fade over time.
Water and Scratch Resistance
Laminate is ideal for individuals who have families or frequently have guests over. The top layer is extremely resistant to water and scratches, according to the manufacturers. This indicates that it can easily handle the pressures of daily living.
Nevertheless, even though laminate is scratch resistant, we still advise placing mats in high-traffic areas like entryways and the kitchen and placing furniture protectors beneath furniture legs to help prevent any scratching.
Can be Installed Anywhere
Since solid wood is sensitive to moisture and humidity in certain areas, engineered oak flooring can be installed with ease in areas like the kitchen, bathroom, and conservatory where spills and humidity changes are common. Some laminates can now even be installed in bathrooms, which see more frequent water spills and dramatic humidity changes. However, you should first confirm with the laminate maker that the material you've chosen is appropriate for this space.
Clean, Easily Maintainable Surface
Another advantage of laminate flooring is that it requires only routine sweeping and mopping with light soap and water. This makes it ideal for those with clumsy personalities or families with young children who enjoy nothing more than making a mess! As there is nowhere for dust or allergens to hide, it is particularly fantastic for people who suffer from allergies.
Hypoallergenic
Laminate flooring is an excellent option because there are no crevices where dust and other particles could collect and trigger allergies in some people. In addition to shielding the floor from harm, the underlayment acts as a moisture barrier to stop mold from growing and dispersing.
Simple to install
Compared to other floor options, laminate is simpler to install. The reason behind this is that the boards are made to interlock, making them simple to utilize. Furthermore, compared to other varieties of flooring that may need to be glued, stapled, or nailed down, laminate can be "floated" over the majority of existing floors, speeding up installation. Most individuals can install it themselves because it's so simple. It's a fantastic project for DIYers of any skill level.