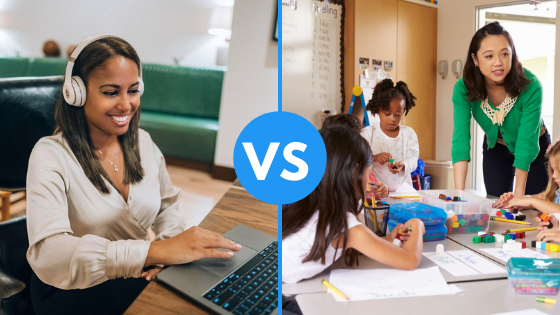 The growth of online teaching has created an opportunity for innovative models of learning and teaching. With school closings around the world, this process has only been accelerated. Courses are purpose-built for online delivery, instructors learn new technologies, and assessments measure the learning styles of students. Licensed instructors follow certain standards and are required to acquire certification.
Courses are purpose-built for online delivery
An online delivery platform is a critical component of a quality education program. The platform must be capable of supporting the full teaching experience. This means that it must incorporate service and administrative capabilities. In addition, a platform must address issues related to student access to services. For example, students should be able to complete online courses and receive support at any time. This means that the platform should be flexible enough to accommodate the diverse learning styles of today's students.
Another aspect of converting distance education programs to the online environment is converting teaching and learning resources. Currently, most materials used in distance education programs are print-based, which presents the lowest technical challenge to convert them to an online environment. Print-based content resources are generally produced by highly standardised document templates. This makes it easier to ensure that text is ordered properly and readable on an online environment.
Instructors prepare by learning new technologies
Online learning provides a number of advantages over the traditional classroom. Distance education provides greater flexibility in scheduling and can accommodate a variety of learning styles. Teachers can also customize their materials and pacing to better fit the needs of different students. Additionally, online learning can help educators explore universal design for learning, which uses digital materials to make learning more inclusive and flexible. Some special software can also help teachers with online learning.
While online learning is a relatively new field, there are some things to keep in mind. First of all, not every student has access to the internet, or a computer. Even if students do have access to the internet, not all of them will be able to participate in the course. Additionally, some teachers and students may not have the necessary technology to participate in the course.
Next, instructors should spend the first few days helping students understand the new technology. They should also assign practice exercises that allow students to test out the tools and ask questions. This will help them become more comfortable with the new technology and prepare for any challenges that may arise. However, instructors should also make sure to review assignments and give feedback within a week of submitting them.
Students' learning styles are gauged by assessments
Assessments of learning styles help identify which methods of teaching and learning are most effective for a student. In order to tailor education to individual students, it is important to identify different styles of learning and adapt instruction to fit each one. Learning styles are characterized by the way in which people process information and apply it. Various types of tests measure this.
Among the various types of assessments, individual case studies and multiple-choice tests are commonly used to gauge student learning styles. Statistically, these types of assessments correlate positively with students' preferred learning styles. Other types of assessments are designed to measure student recognition and performance. For example, using case studies to assess student learning skills is more effective than using multiple-choice tests.
Assessments of learning styles are based on the research of Barsch. The research he conducted led to the development of the BLSI learning style inventory scale, a self-assessment tool for identifying a student's preferred learning style. This scale has become an important tool for education research and has been used by schools and colleges to train teachers.
Using assessments to gauge students' learning styles is a crucial aspect of effective education. Identifying the learning style of a student will help teachers and parents provide the best education. Furthermore, it will help identify any risk factors or conditions that may affect a student's learning style.
Besides helping educators determine learning styles, these assessments also aid the teachers in identifying problems in the classroom. However, it is important to note that assessments are expensive, which means that many schools do not use them for this purpose. If schools incorporated this method, they would need to adapt their curriculum to different learning styles. It would also result in an increase in their budget and tax burden.
Licensing and certification requirements
When you are planning to pursue a career in teaching online, you will need to be aware of licensing and certification requirements. These requirements vary by state. Some require applicants to have a bachelor's degree from an accredited university and complete a state-approved teacher preparation program. In addition, you will need to pass a background check, including an FBI background check, to become eligible to teach.
Many colleges and universities offer online programs that allow students to study at their own pace, and some programs help students arrange teaching hours around other responsibilities. Be sure to choose a school that has an accredited degree program and offers a variety of online options. This ensures that you are receiving quality education.
Some online programs are offered at an associate, bachelor's, master's, or doctoral level. The first three levels are designed to prepare students with specific skills needed in a classroom. A bachelor's degree is the minimum requirement for becoming a certified teacher, while graduate credentials allow you to pursue careers in education administration or research. There are also alternative certification programs available for those who don't have a higher education degree.
Cost
Compared to regular classroom teaching, online teaching saves both time and money. Moreover, students can decide on their courses and schedules. An online class usually costs between 20 and 50% less than a physical classroom. Many students prefer to enroll in an English-taught program, which is convenient in daily life in China.
Online teaching is popular among students, but it has its challenges. Often, teachers find it difficult to manage their workload and time. To improve the efficiency of online teaching, teachers must devise ways to keep students engaged and interested. They can do so by incorporating interesting and interactive activities into the lessons. In addition, online teachers can use different tools such as text chat, audio chat, and video chat.
The salary you earn from online teaching will depend on several factors, including your certification and experience. Some online teaching companies pay teachers weekly, while others pay monthly or even at the end of the course. The amount of pay may be higher during holidays or if you have been working for a few months. Another benefit of teaching online is that you don't have to prepare lesson plans, as well as do homework and report writing.
Online teaching companies will provide you with a resume and profile. They will also provide a list of students for you to teach. In addition, they will provide lesson plans and grade student work. If you are comfortable with this kind of work, you should go ahead and take up the opportunity. It is one of the most convenient ways to earn a decent income.