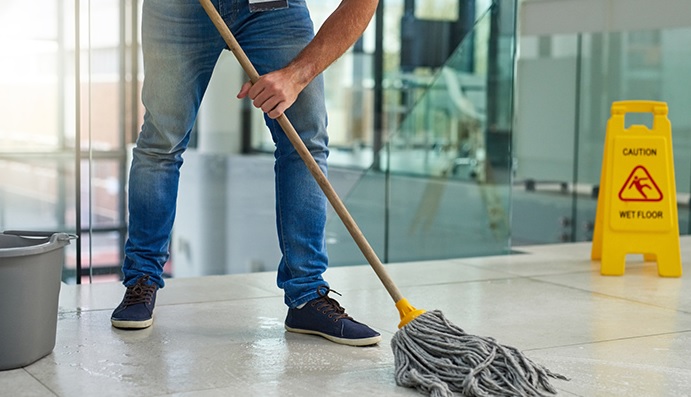 Cleaning is a basic need whether you are at home or in the office. A dirty house not only pictures your personality poorly but can harm your health as well. That is exactly why you need to pay more attention. Keeping your surroundings clean is also important because of COVID-19. The cleaner is your ambiance the safer it is for you and your family. You should also consider hiring professionals for the job if you can't find time to do it. A good company can be found through a reference easily. Following are the key benefits that might help you in hiring janitorial services.
Right experience for the job
It is a common misconception that anyone can do the cleaning and it doesn't require any experience. Well, it is true that anyone can do it but the second part isn't correct. An experienced professional knows exactly how to clean a particular thing perfectly without damaging it. The professionals also know the efficient cleaning methods as well.
Professionals are well-equipped
The cleaning needs the right equipment to ensure a one hundred percent cleaning. Most of the homes are well equipped with cleaning equipment but the efficiency of the professional cleaning equipment is off the charts. You must hire the office janitorial services if you want a clean ambiance all the time. A clean office can increase productivity greatly.
Thorough cleaning
Anyone can do the cleaning but finding skipped spots is quite common. Usually, when you take up the mop to clean your home or office yourself you tend to wipe the floor quickly without noticing that you are skipping some spots, like corners and under the furniture, but a professional is well aware of the if these issues and pays attention to the details for maximum customer satisfaction.
More output in less time
If you value time, then you must hire the best janitorial services to get more output in less time. The professionals know their stuff around precious things and they can not only do it better it'll be a lot faster. If you have very narrow slots available for janitorial work, then you can save a lot of time by hiring professional services.
Saves money and effort
Many people don't really understand that it takes a lot of money to keep your ambiance clean all the time. Because you are going to need cleaning equipment and chemical supplies frequently and hiring a professional company would seem like a lot cheaper and effective. Plus, you have to waste your time as well, but you can avoid it all just by making smart decisions.
Give you peace of mind
Hiring a professional cleaning company gives you peace of mind because you don't need to worry about the responsibility. All you need is just to leave your keys with them and they can come while you are away and when you return the home would be in a perfect welcoming state. Because the moment you step in the fresh breeze will tell that your home has been cleaned well.
Custom cleaning services
The biggest benefit of hiring professionals for cleaning is that you can completely customize the service package. This means you are not obliged to hire the janitors for a full house or office cleaning. You can just hire them to do a particular job. For example, the offices usually have a cleaning crew and they can still outsource a particular service like the outside window glass cleaning.
Great support for working people
Working people often find it difficult to keep their home neat and presentable all the time. So, if you are one of these people, then the solution is right in front of you and an experienced but affordable company can solve your problem forever. Now, you don't need to worry about your home's condition because you can maintain it while having a tough routine as well.
Keeping your home in a good shape always is a great challenge and its intensity increases if you have kids. Because you'll need a very different approach to keep your home clean, and would be best if you can just hire a professional crew because they can do it better. Hiring a cleaning company gives you the advantage to organize other activities better, especially when you have a job as well.