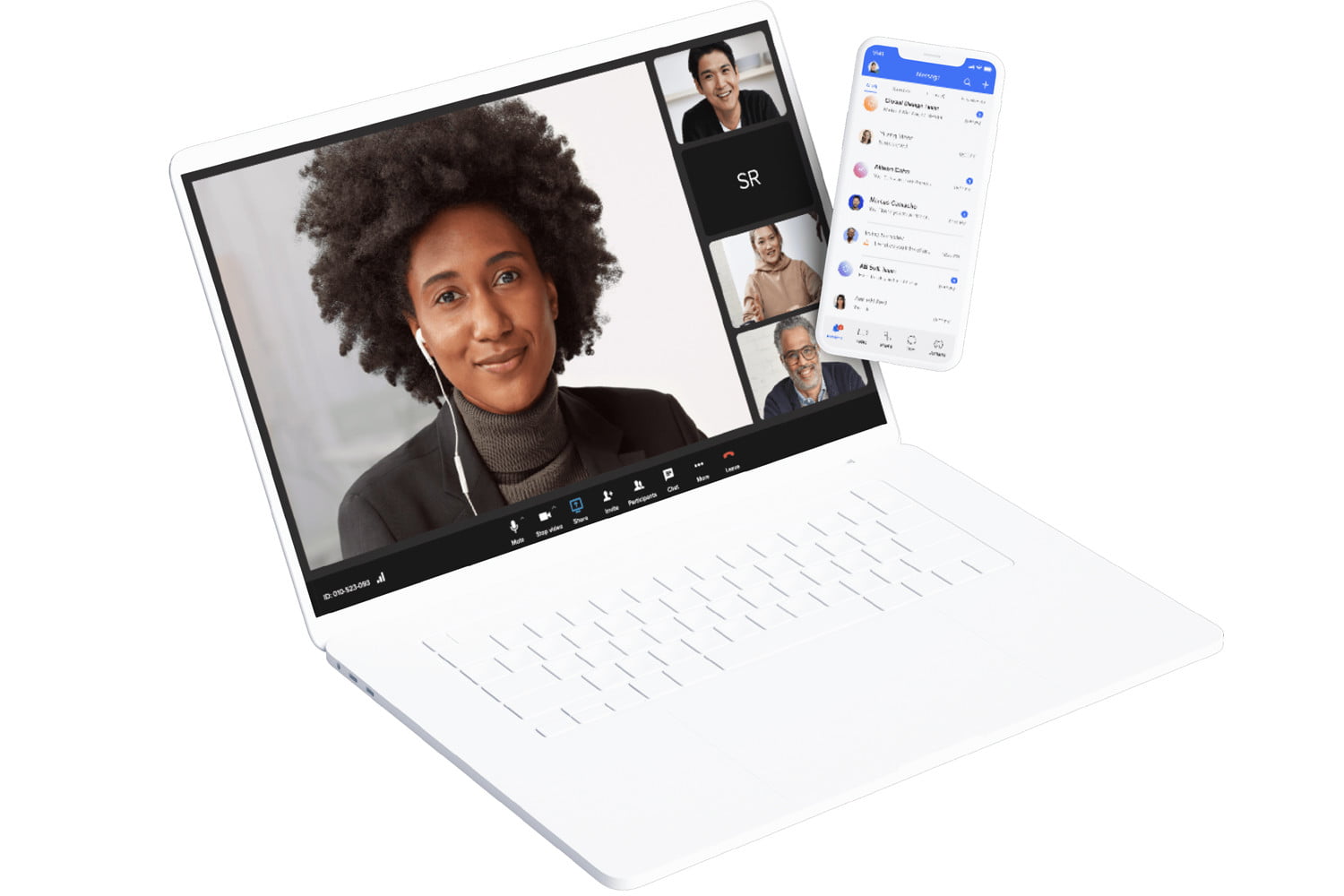 A popular alternative to using a VoIP desk phone is to use a softphone, which is also known as a VoIP app. There are many apps out there; which one is right for you and your team?
More and more business owners look to a cloud-based phone system to provide connectivity for their workforce. VoIP apps are less expensive, and they can deploy them in a fraction of the time of a traditional PBX.
Here's a nifty roundup of these VoIP apps, including key features you need to know before you make the switch from landlines.
What is a VoIP app?
A VoIP app is a software application installed on a computer or smartphone that lets you make and receive telephone calls. Chances are you've already used one before. Popular personal VoIP apps include Skype, Viber, and WhatsApp.
Enterprises and small businesses have both enjoyed Voice over Internet Protocol (VoIP) for low-cost communications. VoIP provides businesses a better phone service for much less, with dozens of premium features built into the platform.
The one limitation of switching to VoIP was that phone calls could only occur using a SIP-based desk phone. Session Initiation Protocol (SIP) is a universal standard that serves as the foundation of VoIP for voice calls.
As an alternative to a VoIP desk phone, VoIP apps use this adopted standard. Additionally, internet connection speeds have increased over the past decade, VoIP is an even more attractive option.
With that in mind, let's talk about what VoIP calls mean for your business. We'll share some of the most exciting features to look for in a VoIP app and what they have to offer.
Why should you use a VoIP app?
If you have access to a laptop, desktop, or smartphone, you can enjoy the benefits of using a VoIP app.
Here are a few reasons why:
1) Ease of use
Implementing unified communication solutions office-wide is a considerable effort. The simplicity and robustness of VoIP apps are largely why they have become so popular. As a result, VoIP apps have become popular due to their simple setup and robust functionality.
VoIP apps only need to be installed once. After you provide your SIP credentials, you're done. Since Wi-Fi and high-speed cellular signals are widely available, you're good to go. Some of the best VoIP apps store your username and password and open automatically without any further configuration.
Power Users: If you want to use a third-party VoIP app with Nextiva, follow this guide. However, most people will enjoy using the Nextiva App.
2) Access to top features
VoIP apps are only as good as the underlying VoIP service. With that said, remote office phone systems provide useful features that employees need to communicate effectively.
Top features include multi-level auto attendants, HD call quality, free team messaging, conference calls, visual voicemail, hold music, call forwarding, and more. Business owners and IT leaders can manage all their settings from one dashboard.
No longer will people need to divulge their personal cell phone number to a client or colleague. Every business conversation goes through the company's multi-line phone system using a VoIP phone.
Cloud phone systems are attractive because features can be activated whenever it's needed. For instance, call recording can happen all within the cloud, not on the local computer or phone.
3) Flexibility
VoIP apps can go anywhere with you, which is why they've grown more popular with the rise of remote workers. From your laptop, tablet, or mobile device, you can instantly access your business line and use it whenever and wherever you need. Even simple features like ringing multiple devices at once let employees take business calls anywhere.
Rather than changing your workflow for a VoIP app, administrators can fine-tune them to fit your business needs. VoIP apps complement your virtual phone system. It's a perfect tool to bring your remote teams closer.
If you can download an app, you and your team can work from anywhere. The audio conferencing capabilities give people the freedom to take part in audio conferencing on the go.
VoIP apps for Windows and macOS
We've rounded up the top VoIP apps you can use on Windows or Mac. Computers and laptops are a staple in today's workplace. As such, providing them with a VoIP app helps keep them connected with colleagues and customers.
Bria X-Lite
X-Lite has made its name for itself, providing innovative provider-agnostic softphone solutions. To get the software, you must register on their website. They also offer their free VoIP app across many operating systems. Users will appreciate that simple and straightforward interface as well.
Key features:
Assisted setup and configuration
Contact list management
Works with VoIP and ITSP providers
Zoiper
Zoiper offers a paid and free VoIP app that lets you install the calling software across many operating systems, including Linux. The team has put a great deal of effort into the interface, includes some time-saving features, and offers a lot of customization.
However, don't expect to install it and go. Many settings need to configured before calls can take place. Once you obtain your SIP username, password, and domain, you should be ready.
Key features:
Cross-platform compatibility
Support for many different VoIP codecs
Contact list management
Nextiva App
Nextiva provides a full-featured business phone app for all of its customers at no additional charge. Users will enjoy its hassle-free setup, which only requires a username and password. Nextiva's VoIP app also offers live chat, video calling, screen sharing, text messages, and phone presence of other users.
Key features
Easy installation and setup
Contact list management
Visual voicemail management
Team messaging and group chat
Text messaging (SMS) support
VoIP apps for Android and iPhone
With the proliferation of smartphones with robust operating systems like Android and iOS, free calling apps are quite popular. Unfortunately, most VoIP apps for smartphones are intended for personal use, not business purposes. We've found a few that you should check out.
Android SIP Support
Unlike Apple's iOS, Android devices work with SIP service providers out of the box. This advantage means that you don't need any third-party apps, but it does require some extra setup.
No SIM card is needed, and you can make calls over a strong Wi-Fi signal. This method offers a no-frills VoIP experience — you can only receive and place phone calls. Follow these setup instructions from Google.
Key features
Built into Android
Works within the Phone app
Potentially battery-saving
Bria X-Lite
Counterpath's X-Lite is an independent VoIP calling app that can work with many different SIP providers, including Nextiva. It's a decent option to consider if your VoIP provider doesn't have an app.
Keep in mind that you'll need to provide your credentials and server settings to get up and running.
Key features:
Assisted setup and configuration
Contact list management
Works with third-party SIP providers
Zoiper
Zoiper offers a clean and well-designed app for making and receiving phone calls on your phone. It provides a ton of customization, making it enjoyable for those that want to tinker with settings.
Like X-Lite, you need to provide your SIP username, password, and server information to begin using VoIP calling features. The mobile app is available on the App Store and Google Play.
Key features:
Consistent UI across platforms
Support for multiple VoIP codecs
Works with third-party SIP and IAX providers
Skype
Skype is a well-known VoIP app for individual use since 2003, focusing mostly on free or inexpensive phone calls. Microsoft later acquired the company in 2011 for $8.5 billion.
Skype evolved to be a dominant personal video chatting platform more than a business phone platform. It's a great backup to have if you don't have access to a cloud phone service.
The future of the platform is unclear. Microsoft intends on transitioning Skype for Business users over to Teams.
Key features:
High-quality video and audio calling
Affordable international calling
Integration with Office 365
WhatsApp
A favorite mobile VoIP app outside of the United States, WhatsApp, has become a mainstay for texting and video calling for friends and family. Facebook acquired the messaging platform for an astonishing $21 billion in 2014.
WhatsApp lacks business features such as conference calls and access to the telephone system (PSTN). Users will enjoy the higher call quality when calling others, which is a testament to the potential of VoIP.
Key features:
User-to-user calls and video chats
End-to-end encryption for messages
Location, emoji, and GIF support